Top Tech Offers to Grab This Season
This year has been all about adapting to the new normal, and the right technology can help you do just that. Whether you're back to the office or still working from home, it pays to take advantage of the best hardware and software options available. Read on for some killer tech picks to help you stay efficient and up to date this season.
HYPERJUICE Stackable GaN 100W USB-C Charger
Everyone needs a portable USB charger to plug in multiple devices at once. This new patented design is touted as the first of its type. It's powered by Gallium Nitride (GaN) semiconductor technology, allowing it to charge more efficiently than its silicon-based peers.
The size is also a significant feature. At half the size of similar products, it is quite portable for any charging needs. It also stays in the wall more easily than larger models. It has four quick-charge ports, 3 USB-C and 1 USB-A, and foldable US-prong plugs. This small but powerful charger will surely serve you well.
Freshbooks Accounting Software
As a practical software pick, you can't go wrong with Freshbooks if you are a business owner, contractor, or freelancer. Freshbooks is an all-purpose accounting and invoicing platform that offers desktop and mobile interfaces. It comes with crucial features like customizable branded invoices and automatic billing for repeat customers. It also offers features like time tracking, mileage tracking, and other critical business needs for companies of all sizes.
This software is good for any need because it offers multiple payment tiers, depending on how many clients you have and which features you prioritize most highly. You can start with a free 30-day trial today to test the product without even inputting credit card info.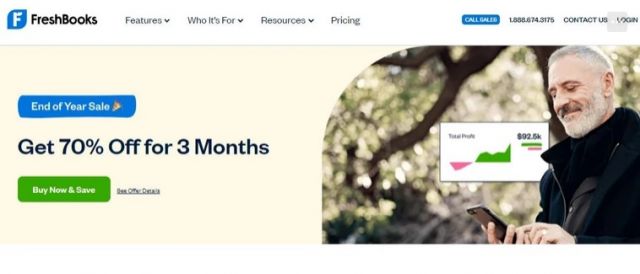 Thinkorswim Trading Platform
You've probably heard a lot about online trading lately. The stock market can be volatile, but modern online brokerages lower the barrier to entry by making investing more accessible. Plus, with AI-powered insights, predictions can be made more efficiently and accurately than ever.
If you're interested in perfecting your trading game, this platform is for you. Created by TD Ameritrade, the thinkorswim platform was developed with feedback from traders to perfect the information and usability. It offers desktop, web, and mobile interfaces so you can monitor your accounts from anywhere. Plus, with automated trading and $0 commissions on ETFs, online stocks, and options trades, this platform is highly rated for low-cost active traders and those in search of an interactive experience.
Watchtheroads Dashboard Cam
Dashboard cameras are growing in popularity, and it's important to choose the right one if you're looking for some peace of mind on and off the road. Dashboard cams allow you to capture evidence in the event of an accident or hit and run, prosecute thefts, get out of wrongful tickets, or help in the event of insurance claims.
This product is highly rated for its affordability and high-end features. You can feel more secure on the road with a 350-degree rotating camera and HD 1080p video recording capabilities. It has automatic motion detection and superior quality imaging at night. You can install it on the dash with just a suction cup, so it works on just about any vehicle.
Sony WH-1000XM4 Wireless Headphones
These noise-canceling headphones are rated as the best in the market. Originally launched in August of last year, they have undergone a couple of updates that make them the top pick this year.
They stick with the comfortable Sony fit but add on new features like multipoint pairing and DSEE Extreme audio upscaling. Sony also released a firmware update to improve the stability when pairing multiple Bluetooth devices in response to an issue reported by Windows users. These headphones offer a 360 Reality Audio format that enables spatial audio for excellent listening quality and complete noise cancellation.
Wyze Smart Floor Lamp
Artificial intelligence (AI) has many uses in our business lives and personal lives. If you're looking for a high-tech gift or just looking to level up your at-home office, this convenient use of smart technology is for you.
The Wyze smart lamp is a five-foot eleven-inch gooseneck shape with a 23-degree angle light that will only focus light on a particular subject. This makes it useful in shared spaces where you don't want to disturb others. It has 15 brightness levels that can be tailored to any task or setting. What's really fun about this lamp is it boasts AI-powered decision-making that can learn your user preferences. It will learn what time of day or in which spaces you prefer different brightness levels and adjust accordingly.
Conclusion
There you have it, some must-have options in the tech world this year. Whether for fun or function, you don't want to miss the top hardware and software picks this season.